So, I've been on the server yesterday. One of the administrators allowed me to build a small laboratory so I could role-play properly as a Salarian scientist - thank you for that!
Now I was walking around the ship and I missed decoration badly. The hangars were filled with decorations but to me and some others it didn't feel fitting. I found out that there are a lot of crew quarters on the map, twelve as I counted. Right now some crew members have a residence in the hangar bays and the recreational area is located in one hangar as well. I went into single-player on the map and decided to decorate it around, see what I could accomplish. So, here goes my suggestion:
This wouldn't be the absolute result, these are examples of what I can  do to the map. If you open the images in a new tab they shouldn't be cut off like they are right now.
The Hangars
The garage.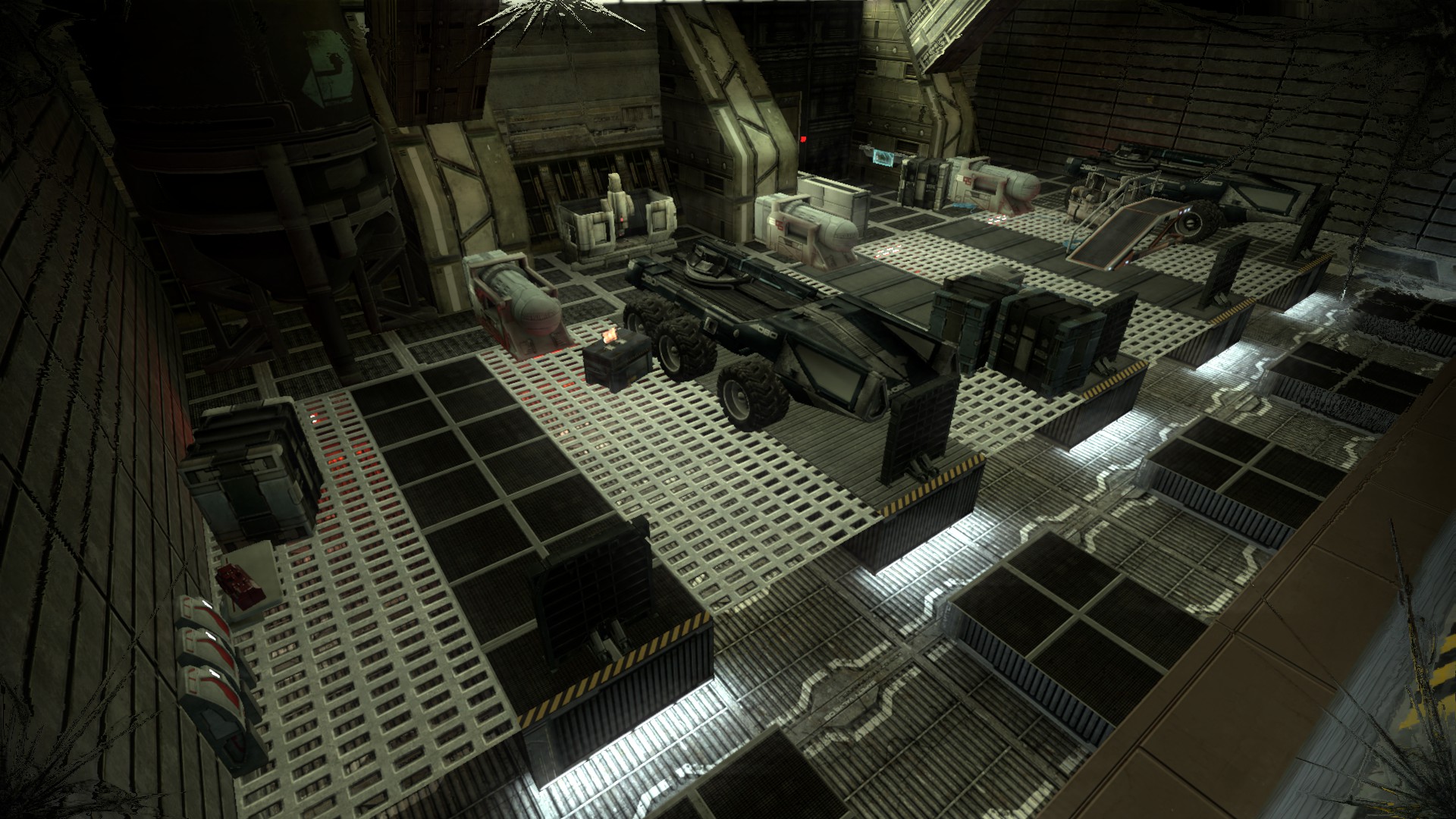 The garage has two parked M-080 rovers inside. There's a lot of technical equipment here which players can interact with during passive role-play. Additionally this area already makes this ship feel more like a real freighter.
Laboratories & Mining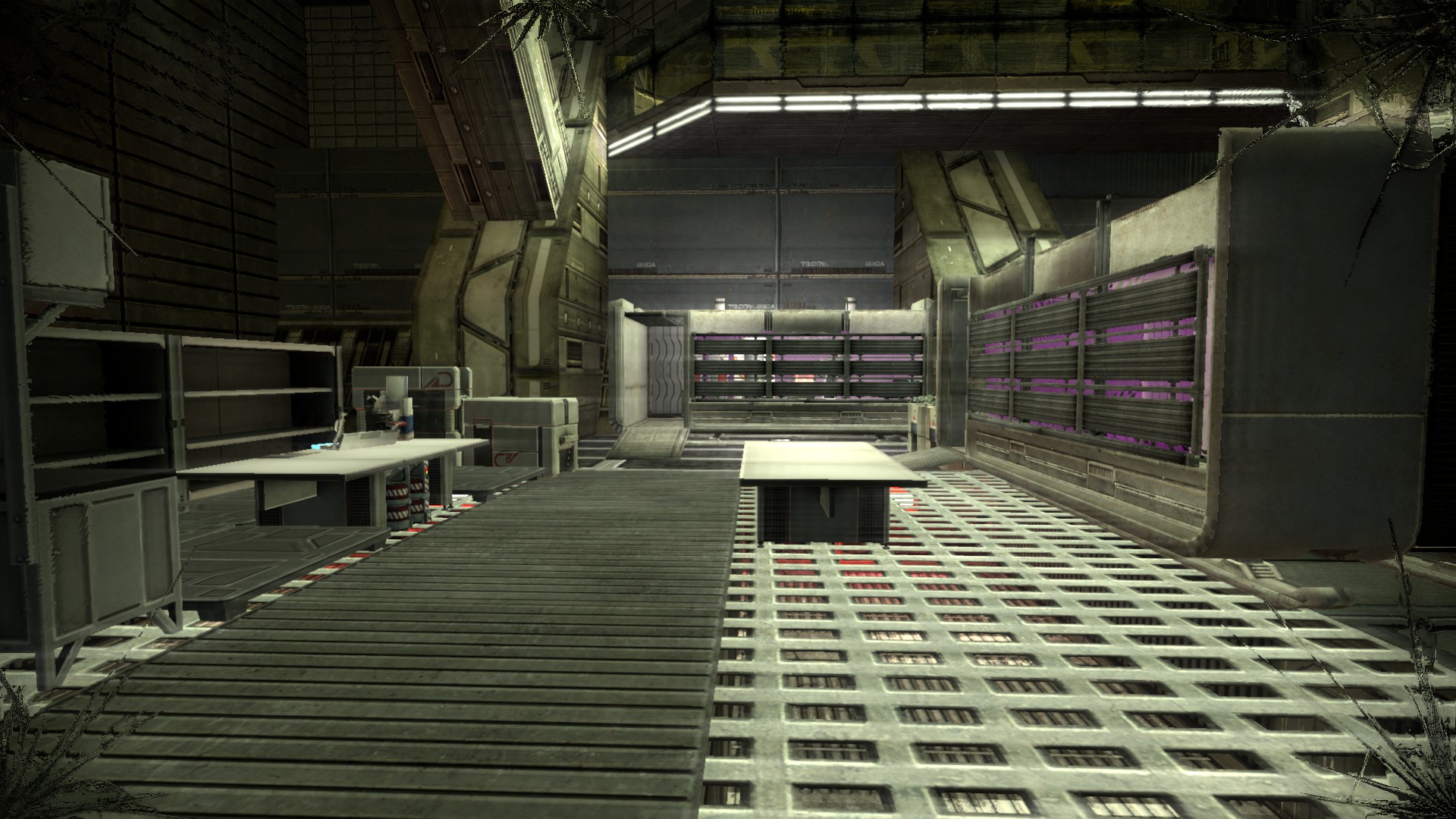 The laboratories & mining deck are designed for, you guessed it, science and mining. The MSV Geisha is a freighter that collects transports Red Sand; two large mining vehicles are parked and these could be hooked up to devices like the M-080 rovers. Additionally, I could add more mining equipment such as drills, crates and lamps. The second area in this same room are the laboratories. Here, scientists measure the quality of the Red Sand and eventually perform medical tests from samples that belong to sick patients (everyone gets sick in awhile when you keep landing on different planets)
The Crews' Quarters
The Cafetaria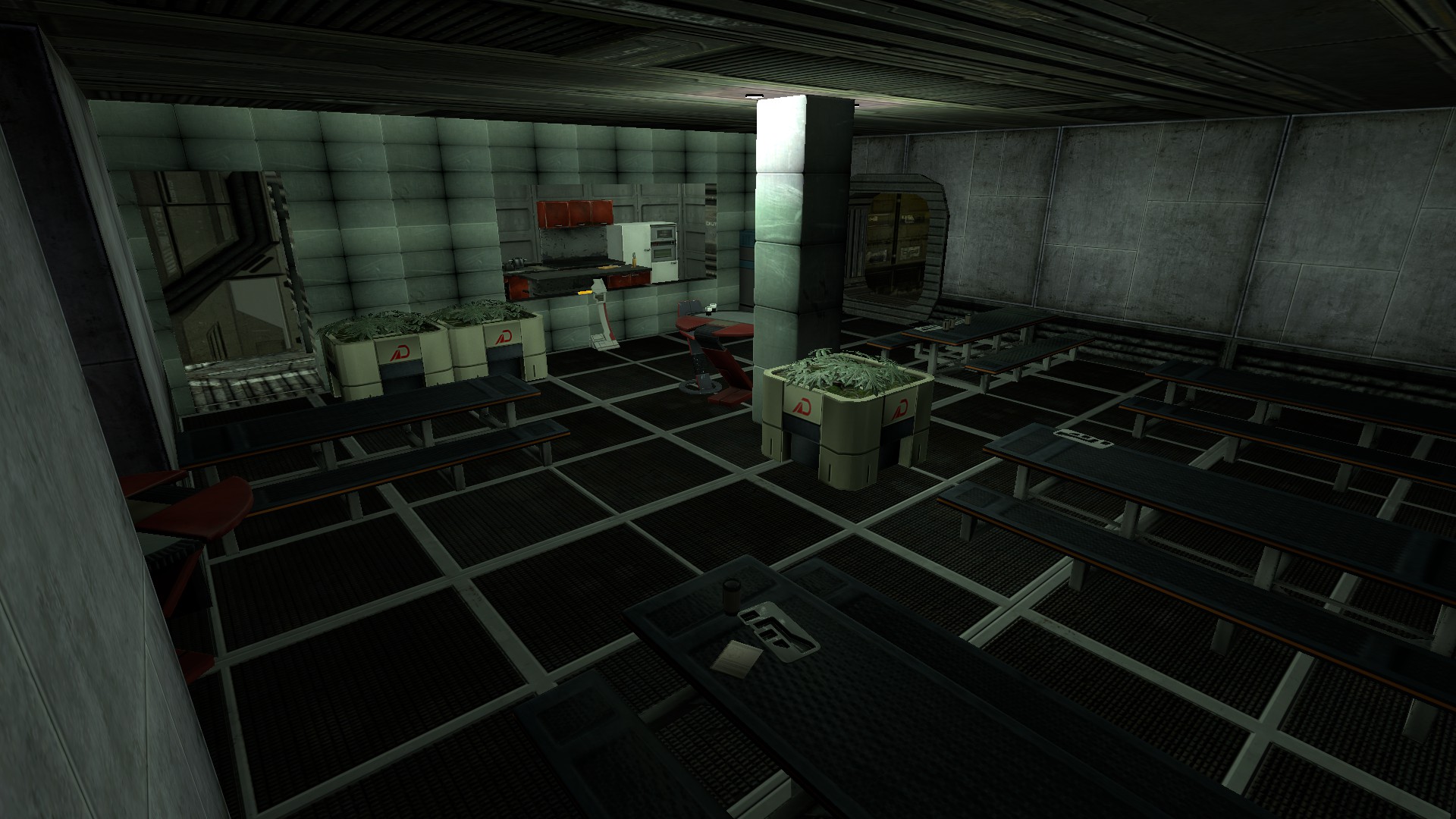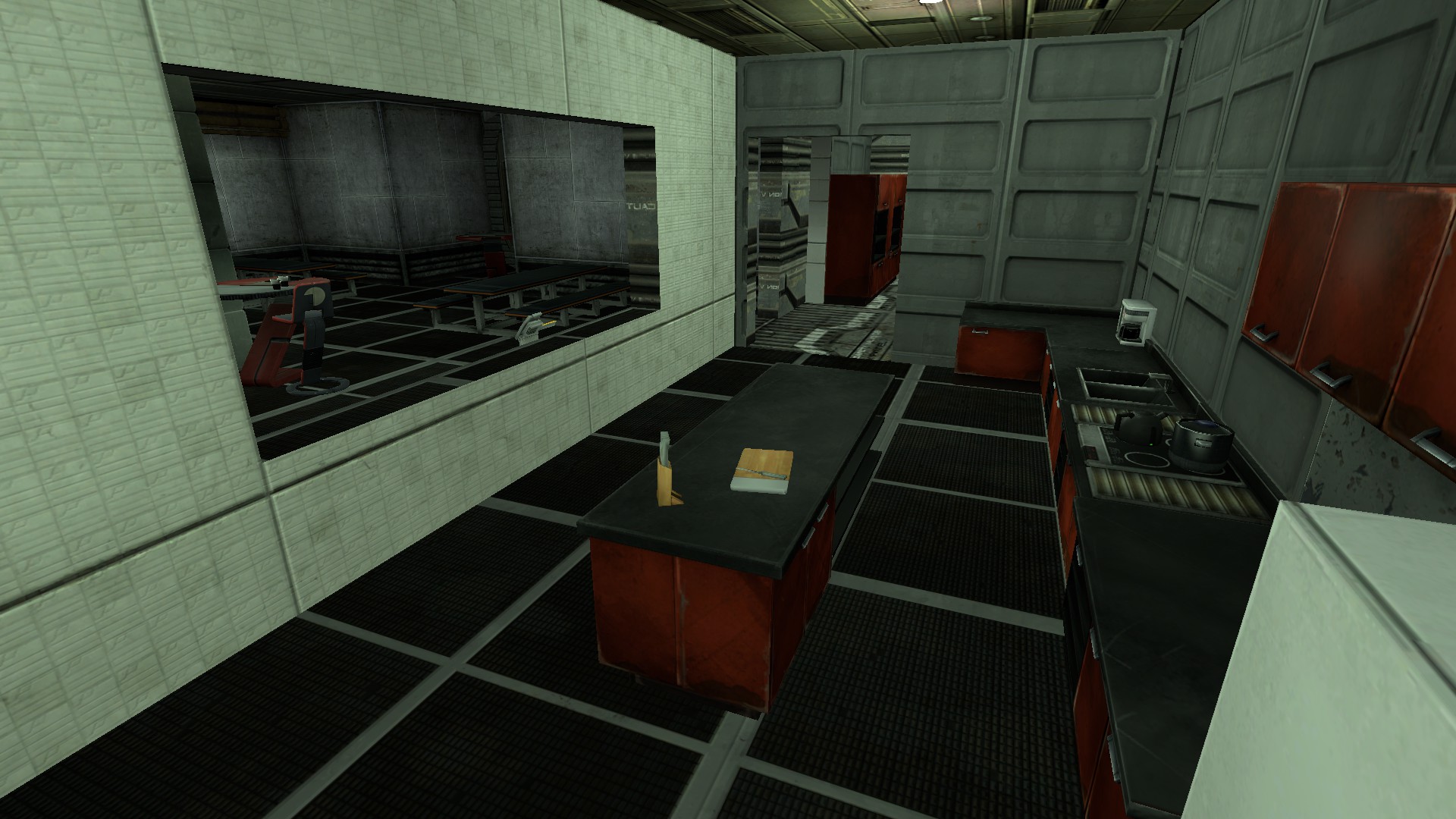 Not much changed in the cafetaria; it has been decorated more simplistically and calmer.
The sleeping Quarters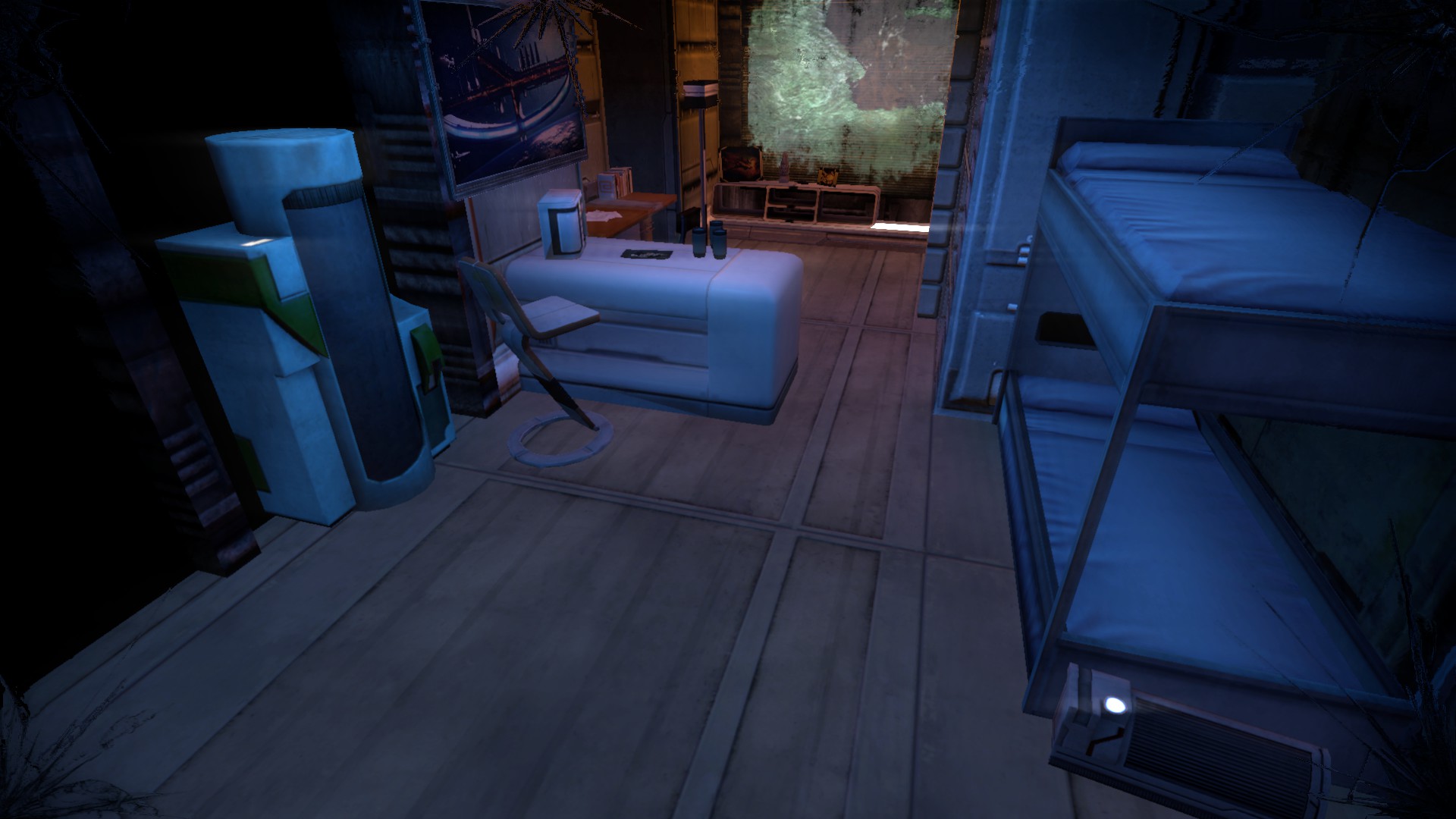 Sleeping quarters can be used by at least two or eventually more ship crew. (These rooms should be decorated right now according to a regular member, but they are never used.) The standard decoration in each quarter would be the bunk beds. Each room can have one, or maybe even two bunk beds. Seeing how the ship has Twelve rooms, we could house twenty-four players. If each room would have two bunk beds, the entire ship could house forty-eight players.
Why do we need this?
I think we need this because I observed (in various role-play game-modes) that the role-playing environment is extremely important. Having areas like a cargo bay, a garage, laboratories, a medical bay and shared crew quarters drastically improve and increase passive role-play. Aside from that, it even looks cool to have the map set up like this.
Who should implant this?
Myself and Gandhi would implant this idea.
What do we need to accomplish the results as seen in the images?
Easy precision, so I can easily clip props that are too tall into the floor (the bunk beds, for example.)