Login:
*************
GNCK:
*****-****-******
---
Idenitifying Network Provider....
Identifiying....
Idenitification complete: Galcast GIP
Connecting....
Connecting....
Connection Complete...
Please insert inquiry:
Citadel Citizens - Missing Person(s) -
keyword:
Background, Identification
Searching....
Searching....
Searching....
Results found: 1
Listing results in Alphabetical Order...
---
====================

====================
Full Name: Brian Doughty
Nickname(s): Joker
Age: 19
Homeworld/Colony: Earth
Morale: Low
Status: Alive and Healthy
Relationship Status: Single

====================

Appearance

====================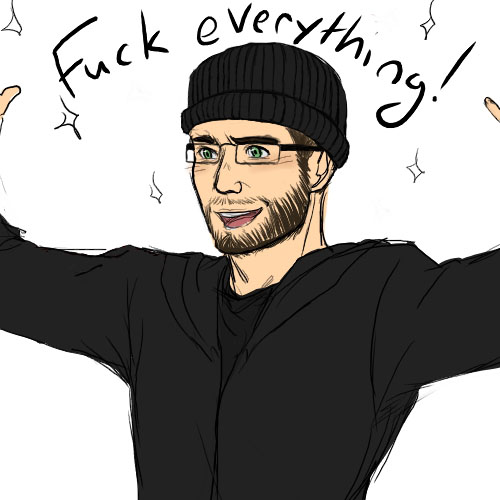 Hair Style: Uncut Mop
Hair Colour: Brown
Eye Colour: Sky-Blue
Facial Features: 5 O'Clock Shadow
Body Features: Vertical surgical scar running down chest (faded)
Clothing: Grey hoodie with blue angel wings on back, jeans /w pouch flaps, running shoes and a black beanie.
Build: Light Build
Other: Pale Complexion

======================

Occupations & Hobbies

======================

- Previously Enrolled in Kithoi Private Medical College
- Previously Employed at The Drunken Bird
- Gaming
- Reading

====================

Family

====================

Jacob Doughty - Father - Alive
Melissa Doughty - Mother - Alive



=======================

Personal Relationships


=======================


Love/Romantic Interest | Good Friend | Friend | Acquaintance | Neutral | Dislike | Hate | † = Deceased
† 'Shogun': "You were the first captain on the Gesha... And an idiot... And a pornstar... And had a kink for big buff asari... And shot your own fucking foot off... But at least back then, there weren't any real fights between the crew, I think... Then again, we were constantly attacked by pirates. Part of me misses you, although not really. Guess it's because no one fought too much under your command."

Jelali Tyvani: "Jelali... Jesus, I've known her longer than anyone else on the crew. Mainly because she helped my ass back on Omega and... We danced a lot in the nightclubs as well, heh. For someone who is half blind and half deaf, she moves rather fluently on the dance floor... She's a real good friend to have, and the protection from a biotic is an added bonus too."

Elliot Foster: "Elliot... Trained Blue Suns assassin, commander of the Geisha, and... A good friend. I just wish people would stop calling him insane when he's going through the personal shit that he's going through. Those are episodes that the crew is causing just by simply being stupid. They're stressing him out to the point where he's about to crack under the pressure, and the personal shit isn't helping either. At this point, escaping the Geisha and getting help at an actual hospital is the healthiest option for him."

Ludmila Folke: "A pilot who got medically discharged because she can't feel pain, heh... She's got her head screw on tight, and that's what I like about her. Between me and Elliot, she's pretty much the perfect blend between knowledge and combat experience. Now if only I could get her to teach me how to properly fly a Kodiak, heh..."

Dexidia Tantis: "You know, most female Turians I met both on the Citadel and on this ship are usually the 'stick-up-their-asses' type, stuck-up and really bitchy over little things. This really sucks because I actually think some female Turians look cute, although I probably come up to their chest. Dexidia proved to be different, and I like that about her. She's the kind of person who will take the time to actually ask if you're alright, and then will hug you just to make your day feel better. Seriously, I'm trying to figure out why she's on this ship, and I even asked her that. If only she came around more often, because I really like to talk to her, heh."

Alicencia Beyumous: Incoherent screaming in the distance.

Ayao'nivak 'Ayano' Torack: "She's a surgeon... Well, when I say surgeon, I mean she cuts people up for organs. She seems alright, though. I asked her not to do that shit to me, and she said she wouldn't. Whenever she's not pissed off from stress, she's actually pretty cool to talk to."

Alex Thompson: "Alex... Hm. What is there to say about the guy? Well-uh, there's a lot of shitty banter between us, heh. He's one of the few ship engineers who's always awake to do shit, and he's-uh... Sometimes he can be an idiot. Got his ribs broken in a sparring contest, but then again the other guy was wearing his boots. Ripped the other guy's tendon. So-uh, yeah... Oh, and if that bastard grinds on me one more time I'm going to make him feel what my concussion felt like."

Miia'Novak vas Zaena: "Miia's pretty cool. The Quarian snowball is pretty sarcastic, and I like that. Still feel kinda bad for invading her room like the English, but at the same time that fucking couch is fucking comfortable. Thankfully she's okay with it, I think."

Travis Ford: "Travis is one of the-uhh, newer people around... Has been around for a week, I think? He's alright sometimes, but at the same time, he can be an idiot. Other than idiocy being the norm on this ship nowadays, he's alright."

Jobakur Grud: "Grud is-... Grud is something. He lives up to the stereotypes of Krogans, but what the fuck am I gonna do about it? Nothing. This little five-foot-seven jackass can't do shit about a Krogan's attitude because he's a fucking Krogan. If only half the crew realized that they were fighting a losing battle with this guy. There's a reason I'm trying to stay on his good side, and that reason is I DON'T want to become a victim."

Raik Arglack: "Arglack? Well, I never thought I'd see a depressed Krogan, but Arglack has proved me wrong. I mean-uh... Don't get me wrong, sometimes I feel bad about the guy, but I honestly don't feel that he should complain about the Genophage because at this current moment, it is not affecting him at all. Unless there was a female Krogan on board that he wanted to start a family with by preforming the mating ritual of Doggy-Style, and she turned out to be infertile or the baby came out a still-born, then he can complain about how the fucking genophage can fuck right out of his quads."

Camille Durand: "Fuck that Eclipse stereotype. Creepy as all hell, wears that DISGUSTING shade of yellow, and from what I've heard, likes to try and get into other women's pants. She says she hates doctors, and that's fine by me. Means I don't have to patch her up. Fucking bitch..."